Straight Edge Horse Stall Mats
Our specially designed rubber mats give the perfect combination of support and cushioning for your horse. Studies show that injuries are reduced in horses with stalls equipped with horse stall mats. These mats are made with the same quality revulcanized rubber as our interlocking horse stall mats for superior fit and stability.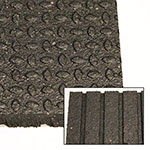 3/4" Standard Horse Stall Mats
Our durable 3/4" mats provide maximum comfort for your horse while reducing bedding costs and injuries. Specially designed rubber surface pattern offers maximum traction, even in wet conditions.

Made from recycled rubber!
Product Features:
Straight cut edges
Easy to install
High traction rubber
Doesn't hold bacteria
Waterproof material
Made with recycled rubber
Vulcanized rubber will not curl or separate
Also available in 1/2" and 3/8" thicknesses